THE BIGGEST EXHIBITION OF POLISH JOINERY AT BUDMA AND WINDOOR-TECH FAIR!
The largest exhibition of Polish joinery is underway. Market leaders will present their offer of ready-made windows and doors at BUDMA, and at the same time, during WINDOOR-TECH, visitors will be able to see the latest technologies, solutions and components necessary for their production. Thanks to these companies Poland is still the leading exporter of door and window joinery in the world.
JOIN THE WORLD'S LARGEST  EXHIBITION OF POLISH JOINERY AT THE  BUDMA AND WINDOOR-TECH FAIR! 
31.01-3.02.2023
APPLY THE POTENTIAL OF THE INDUSTRY AND ACHIEVE NEW MARKETS!
MEET THE LEADERS THAT MAKE POLAND GLOBAL LEADING EXPORTER OF WINDOWS AND DOORS!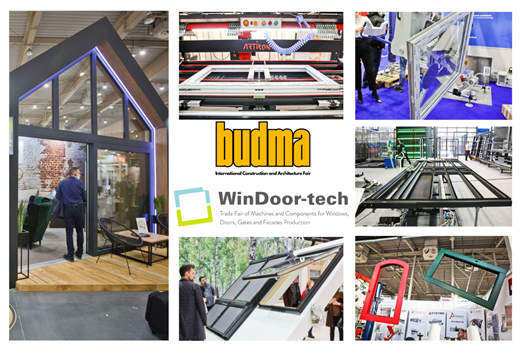 DOUBLE POWER OF BUDMA AND WINDOOR-TECH FAIR 
COME TO THE BUDMA AND WINDOOR-TECH FAIR - PLACE OPEN FOR BUSINESS! 
ATTENTION - LIMITED OFFER! PROMOTION OF LOWER TICKET PRICES UNTIL 30/11/2022!
WHY IS IT WORTH BEING HERE?
A wide range of modern windows and doors from leading manufacturers at the BUDMA fair
Presentation of the latest technologies, solutions and tools for the joinery industry at the WINDOOR-TECH fair
World premieres of innovative products
International Meeting Zone - a special space connecting international and Polish markets

Hosted Buyers program - development of the commercial dimension between Polish producers and foreign contractors

Patronage and presence of the most important organizations and associations of joinery
A rich exhibition of specialized equipment

Solutions for the automation and digitization of production processes

Live demonstrations of innovative robots, machines and devices
Stands of leading companies in the window&doors joinery
Business meetings
BUILD A GLOBAL BUSINESS!
INTERNATIONAL
MEETING ZONE

HOSTED BUYERS
PROGRAMME
WINDOOR-TECH FAIR EXPOSURE:
Construction systems and profile systems
Fittings, fastening technology, security technology and SMART technologies
The latest equipment and fasteners
Robot&machines in window and doors joinery
Glass and glass products
Shading and ventilation technology
Storage and transport technology
Design software and production management and control systems
JOINERY EXHIBITION AT BUDMA FAIR::
Windows: Wooden, Aluminium, Plastic, Roof slope, Others
Doors: Wooden, Aluminium, Plastic, Steel, Glass, Others
Winter gardens, patios
Windowsills
Window shields: Louvres, Roller blinds, Awnings, Mosquito screens, Window shutters, Others
Gates and fencings: Gates, Fencings, Accessories for gates and fencings, Others
BUY A TICKET: