Ready for Inspiration? Budma 2024 - We are starting preparations!
Budma is the largest and most significant event for the construction industry in Poland and Central Europe, supporting sector development for over 30 years. The upcoming edition will take place from January 30th to February 2nd, 2024, in Poznań. This event aims to inspire eco-friendly changes and innovative solutions within the construction sector.
The idea of the Green Deal, aimed at achieving climate neutrality in the European Union by 2050, largely pertains to the construction sector. The sector is expected to become ecological, low-emission, and ultimately environmentally non-burdening. In the initial period, this will involve increased investments, including thermomodernization and the replacement of high-emission fuel boilers with heat pumps and photovoltaics.
Market requirements and consumer expectations make an eco-friendly stance a significant factor in the success of construction investments. Investors are aware that an increasing number of consumers are highly conscious and appreciate companies that act responsibly in the environmental and social spheres. Consequently, enterprises engaged in eco-friendly practices not only build a positive image but also attract a greater number of customers and investors, translating into long-term success. As revealed in the "Global Investor Intentions Survey 2021," 6 out of 10 investors already incorporate ESG factors (Environmental, Social, and Corporate Governance) into their strategies.
The development of modern ecological technologies and materials has become a crucial challenge for the construction industry, and the adoption of green practices has become essential for ensuring future sustainable development.
INNOVATIVE TECHNOLOGIES FOR ECO-FRIENDLY CONSTRUCTION
BUDMA 2024 will serve as a platform for showcasing the latest advancements in ecological construction. Leading manufacturers of construction materials, innovative start-ups, and industry experts will present solutions that minimize energy consumption, utilize renewable sources, and reduce CO2 emissions. Advanced ventilation systems, intelligent lighting, and smart energy management are just a few elements that define the future of construction. Contemporary designs emphasize reducing energy consumption during operation and enabling easy material regeneration and recycling after use. Participants of the BUDMA trade fair will have the opportunity to deepen their knowledge of intelligent systems, bioactive materials, and clean energy technologies that can positively impact our environment.
SUSTAINABLE CONSTRUCTION AND THE ARCHITECTURE OF THE FUTURE
The upcoming edition of the event will once again bring together the worlds of construction and architecture to find a balance between aesthetics and functionality in future projects. Architectural designs aim to harmoniously collaborate with the environment, integrating nature and technology to create ergonomic, energy-efficient spaces tailored to users' needs. The architecture of the future involves not only creating new buildings but also renewing old ones in line with green construction principles. This presents a challenge due to the need to adapt existing structures to modern standards and regulations while considering the protection of national heritage. However, it also represents an opportunity for creative adaptation that highlights the uniqueness of each project.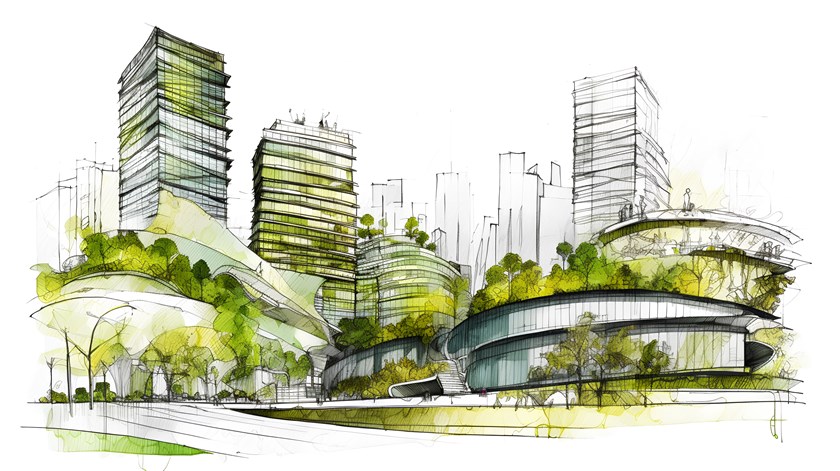 THE GREEN REVOLUTION IN BUILDING MATERIALS
BUDMA 2024 will dedicate a special area to highlight innovations in construction materials. Modern construction materials, renewable resources, and solutions that minimize negative environmental impact form the foundation for creating buildings with a smaller carbon footprint. Specialized manufacturers and scientists will showcase, among others, eco-friendly concrete, wood in construction, thermal insulation based on renewable materials, and much more. Participants will learn about the benefits of applying these new solutions to the construction industry and the challenges that must be overcome to scale up their production.
Considering the challenges posed by climate change and the global demand for sustainable solutions, "Green Future of Construction" at the BUDMA trade fair will serve as a guiding light for the construction industry in striving for harmony between progress and ecological responsibility.
We invite you to take advantage of all opportunities for learning, dialogue, and building valuable connections. We encourage all interested parties to register now and to follow our social media channels and website to stay updated on program details, speakers, and the exhibition at BUDMA 2024.
BUDMA 2024 serves as a response to the current challenges faced by the construction sector. The industry is fully aware of the necessity to support sustainable development. The key objective is to create spaces that are not only energy-efficient and emissions-neutral but also aligned with the rhythms of nature and conducive to the health and comfort of residents. The goal is to encourage exhibitors and participants in the construction market to showcase products, technologies, and ideas that meet the expectations of contemporary society. - explains Marta Szydłowska, Director of BUDMA Trade Fair.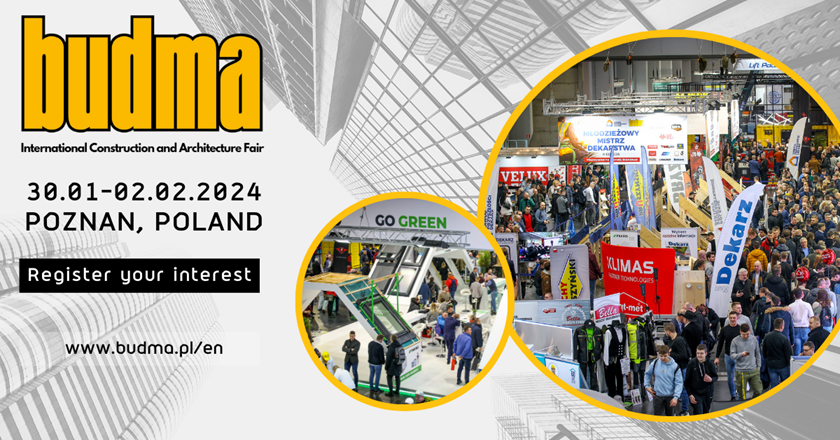 Environmental concern has become a priority, thus the direction of "Green Future of Construction" marks a new era in the construction industry. The concept of green construction is driven by increasingly stringent requirements, high energy costs, elevated carbon dioxide emissions, and changing preferences of residents regarding environmental preservation. European climate regulations have set mandatory goals for the EU, including reducing emissions by at least 55% by 2030 and achieving climate neutrality by 2050. These directives significantly impact the construction sector, which is responsible for a substantial 38% of carbon dioxide emissions in Poland