Knowledge, relations, business. BUDMA 2023 is waiting in the wings
Intensive preparations for the BUDMA 2023 International Construction and Architecture Fair are already underway. We encourage you to read the brochure, which contains the most important information about the upcoming edition of this most important event for the construction industry. Check for yourself why it's worth it and see you at BUDMA 2023!
BUDMA fair is the best place for integration of the international construction environment, which is accompanied by the extraordinary energy of direct relations and the buzz of business talks. Every year several hundred manufacturers from almost all over the world present the latest solutions for the construction industry. The Trade Fair of Machines, Tools and Components for the Production of Windows, Doors, Gates and Facades WinDoor-tech will be held concurrently with the next edition.
"As organizers, we do everything to ensure a high substantive level of the event and present a comprehensive offer for specialists in the construction and architectural sectors. We want to guarantee them a space for fruitful business meetings, access to the latest technologies, and the most up-to-date knowledge" - emphasizes Marta Szydłowska, director of the BUDMA fair.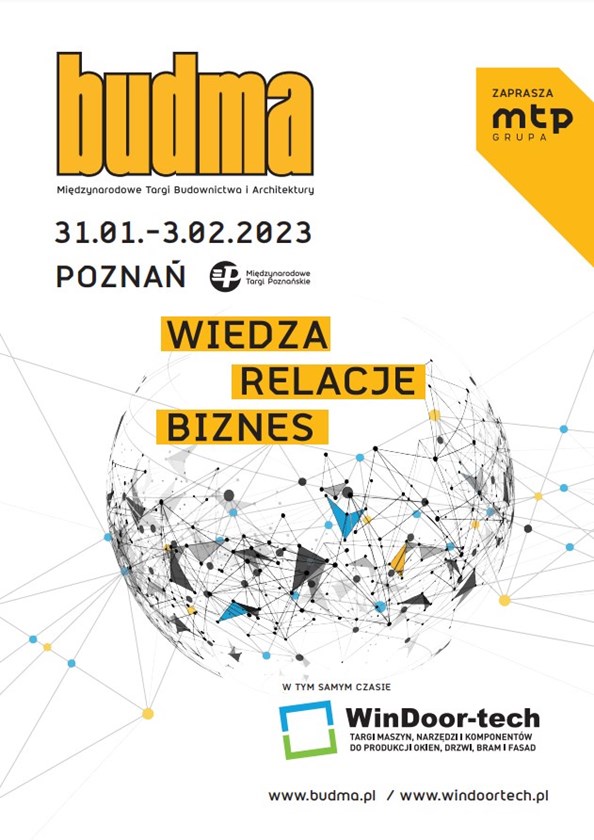 International Construction and Architecture Fair BUDMA
31.01 - 03.02.2023, Poznań