Build a global business - BUDMA International Meeting Zone
Personal meetings are irreplaceable in building business relations, therefore during BUDMA and WinDoor-tech 2023 fairs we take them to a new level. We kindly invite you to participate in the International Meeting Zone! This is an unique opportunity to develop your company on global markets.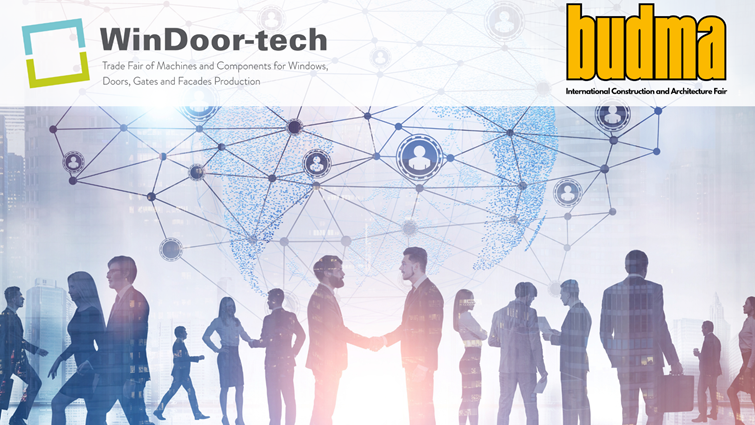 International exhibitions bring together businesses from many countries, many economies, but also many cultures. Therefore those events are a perfect place to not only showcase products and services in form of an exhibitions stand, but most importantly to create the opportunity for people to meet in person.
People, who share the same goal—to develop their business. To grow stronger. To grow internationally.
International trade drives the economy, develops companies, opens new markets, and we are introducing a new space for international meetings, where not only buyers from around the world can meet with the suppliers, but also will have the opportunity to get a consultation on services supporting the international trade.
We will create a space for international visitors, key-account visitors from Poland, and finally exhibitors of BUDMA and WinDoor-tech, where we will not only help them find the prospect business partners, but also we will provide a complex and significant knowledge on how to navigate the company's development internationally. This is what gives value to the concept. Knowledge, looking for new financing opportunities, for security of transaction and logistics and finally for logistics itself in this new supply chain broken reality.
We will combine knowledge and networking with technology. To make sure that the verified participants will get the most of the networking opportunities – we will issue a mobile app, suggesting the possible contacts, creating the calendar of meetings and a map of meeting tables.
Don't miss on the opportunity of international development of your company! Become a BUDMA Exhibitor, join the International Meeting Zone and build a global business!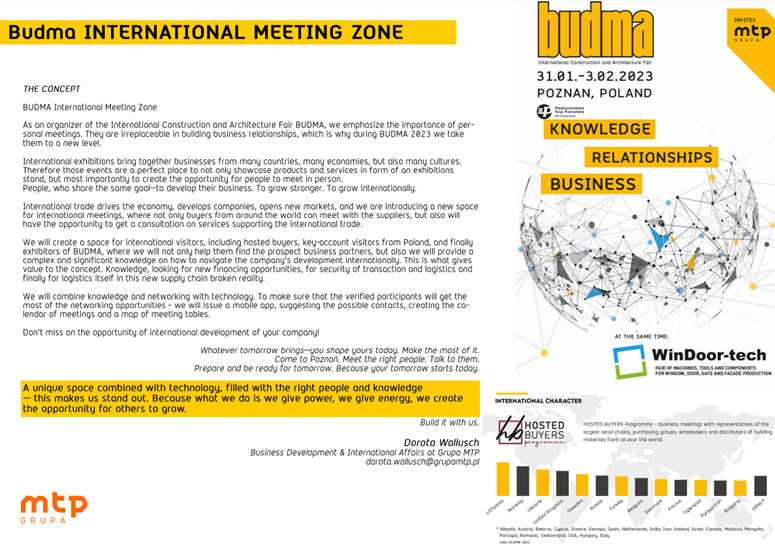 Partners