BUDMA 2024 - THE MOST IMPORTANT ROOFING INDUSTRY EVENT
Are you ready for an exceptional industry event? Do you want to reach a wide audience, showcase your top products, attract new customers, and establish valuable contacts in the industry? BUDMA is the perfect place for you! It is one of the largest events in the roofing industry, attracting thousands of professionals, investors, and customers from around the world. The next edition will take place from January 30th to February 2nd, 2024.
Get ready for an unforgettable experience in the world of roofing!
POLISH ROOFING ASSOCIATION CONGRESS
An annual gathering that brings together leaders in the roofing industry, experts, company representatives, and enthusiasts of roofing in one place. It is a unique opportunity to exchange knowledge, experiences, and best practices related to roofing. During the congress, you will have the chance to listen to inspiring presentations, learn about the latest trends, innovations, and technological solutions that impact the development of roofing. You will also be able to participate in discussions on the future of the industry, technological challenges, regulatory changes, and other topics relevant to roofers.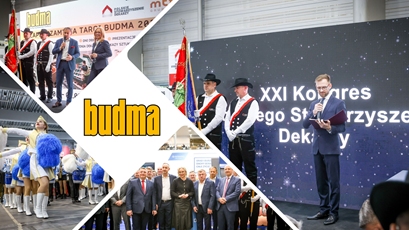 ROOF INSTALLATION SHOWCASE AREA
This is the place where you will have the opportunity to demonstrate your products, skills, and installation techniques live before an audience of industry specialists. Whether you specialize in metal roof coverings, ceramic tiles, bituminous shingles, green roofs, or other types of roofs, the Roof Installation Showcase Area provides you with an additional platform to present your products, knowledge, and skills in a practical manner.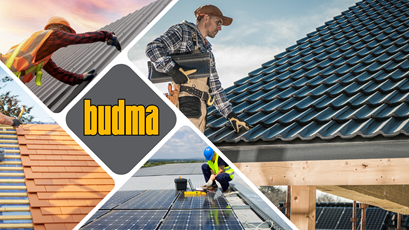 YOUNG ROOFERS POLISH CHAMPIONSHIPS
The biggest roofing event of the year! BUDMA TRADE FAIR will become the arena for the competition among the best young professionals for the title of POLISH ROOFING CHAMPION in categories: steep roofs, metal roofs, flat roofs. The competition will serve as the qualifying round for the WORLD YOUNG ROOFERS CHAMPIONSHIPS. If you are a young talent in the field of roofing, this is your moment to compete for the title of the best roofer in the country. It is a unique opportunity to showcase your skills before the experts, gain prestige, and media attention.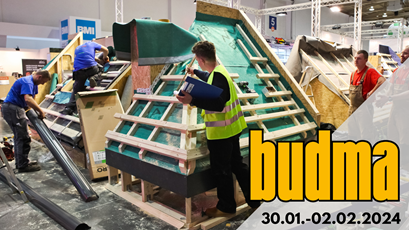 BE IN THE CENTER OF THE MOST IMPORTANT ROOFING EVENTS DURING THE BUDMA 2024 FAIR
Be among the leaders! Join us at Budma 2024 and book your area now.