BUDMA 2023 Gold Medals awarded to 25 winners!
The products awarded with the Gold Medal of the BUDMA 2023 fair are innovations worth attention! Get to know the solutions for the construction and architectural sectors that will set trends in the industry for the coming years!
Even before the start of the BUDMA fair, we get to know the winners of one of the most prestigious and recognizable fair awards in our country - the Gold Medal of Grupa MTP. The competition appreciates innovation, ingenuity and modernity. The submitted products and services, which will be presented at the fair stands, stand out on the market thanks to their quality, technological and utility values.
After the meeting of the Competition Jury, the Gold Medal of the International Construction and Architecture Fair BUDMA 2023 was awarded to twenty-five products.
Palipal Mobile application
PALIPALI Sp. z o.o. The Palipali mobile application that allows immediate transport of materials to the construction site, regardless of their size and location of the construction site. The application is dedicated to companies in the construction sector that struggle with sudden material shortages on a daily basis that may have a direct impact on the project completion date. In addition to saving time, the application gives you the opportunity to reduce transport costs by 30% compared to your own capabilities. Ultimately, the application will be launched in 20 Polish cities.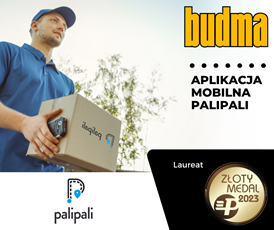 AQUATOWER 3
MARSEPLAST Sp. z o.o. The AQUATOWER 3.0 surface rainwater storage tank with a capacity of 3000 liters is an ideal solution for people who value functionality, durability and comfort. Each tank is equipped with: - screwed covers enabling the inspection of the inside of the tank - a tap hole providing access to the collected rainwater - a drain hole for emptying the tank - a filtration system (a sieve that cleans the water flowing into the tank) - the possibility of installing pump systems.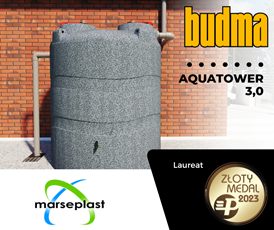 TP26 Super Trapezoidal sheet
Pruszyński Sp. z o.o. Referring to the appearance of traditional roofing. In the case of this roofing, aesthetics is combined with functionality, and the best materials used for production ensure durability and strength for years. These features resulted in a product offering a unique combination of high visual, functional and, above all, economic effectiveness.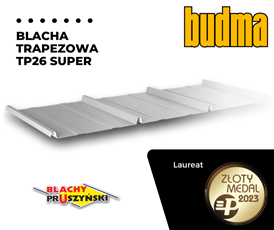 Cor Vision
EKO-OKNA S.A. An aluminium sliding door system characterised by modern aesthetics and exceptional thermal parameters. The elegant design of the system is based mainly on the use of very thin profiles, which constitute only 9-14% of the entire structure.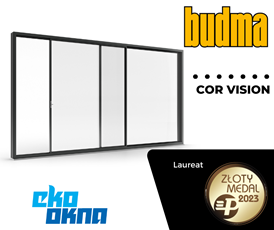 GXP DREN 5+5 DUO Longitudinal drainage
GRILTEX POLSKA Sp. z o.o. Geocomposite GXP® DREN 5+5 DUO is an innovative product combining double-sided extruded foil with geotextile and a pocket for a drainage pipe. It has very high drainage properties on both sides of the system using pipes of different diameters: • It combines surface drainage, vertical drainage and a system of linear drainage of large amounts of water, • Ideal for foundation and road drainage, • Does not require the use of aggregate, • 50% cheaper than traditional drainage, • Protects the environment and reduces the carbon footprint.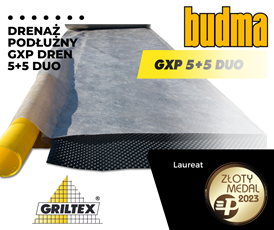 Kramer 1445e Electric telehandler
Kramer-Werke GmbH / WACKER NEUSON Sp. z o.o. The 1445e's performance figures are impressive despite its small size. The lifting capacity on the pallet forks is 1450 kg, the loading height is 4.5 m. Even when handling heavy goods, there are sufficient reserves to work with extensive reach. The efficient machines impress with dynamic all-wheel drive, a high maximum load, unrivalled manoeuvrability and a low tare weight. And when we add to this the emission-free electric drive, we get a perfect working tool that meets the challenges of the future.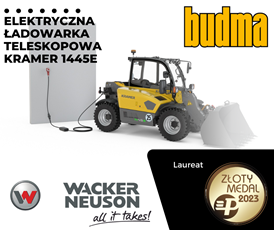 Eurovent VENTOS X
EUROSYSTEM Polska Sp. z o.o. Sp.k. The Eurovent® VENTOS X ventilation chimney with a ventilation cross-section of 170 mm and a connection diameter of 150 mm is made of high-quality UV-resistant plastic. It has an adjustable angle of inclination in the range from 5° to 45°. Used for roofing made of metal roof tiles, flat sheets, trapezoidal sheets or bitumen shingles as a roof outlet for gravitational, mechanical or hybrid ventilation ducts.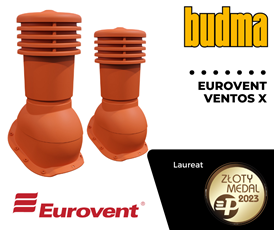 FLEX RUBBER MS
CANADA RUBBER POLSKA Sp. z o.o. Extremely innovative waterproofing coating based on MS polymers. High reflectivity, ease of application, one-day surface sealing system. Application in difficult weather conditions on wet substrates is a revolution among liquid waterproofing membranes.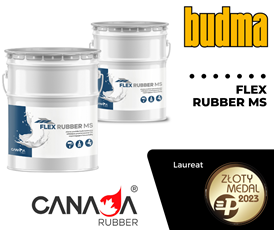 Ege Acoustic handle
VINDOFORM Dis Tic. Ltd Sti. 'Ege Acoustic' tilt and turn window handle is popular all over the world. Its advantages are: • Safe Touch technology (antibacterial coating against Covid) • Savings on heating costs thanks to specially developed micro-ventilation, which allows opening in 4 degrees (45°, 90°, 135° and 180°). • Unlimited colour palette • The position of the handle is confirmed by a click • Ease of installation without the use of special tools.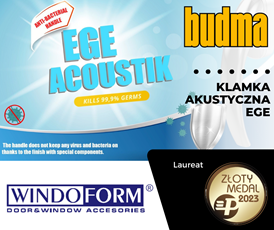 Air Flow 125 and 160 Ventilation chimney
TOOLCO Kazimierz Mitroszewski The Air Flow ventilation chimney is a product distinguished by exceptional air flows reaching efficiency up to 80% higher than products available on the market. Sliding Flap System – patented adjustment of the angle of inclination relative to the roof slope from 0 to 55 degrees, while maintaining the verticality of the connection pipe, completely eliminates efficiency losses. The Air Flow chimney has a system for draining the accumulated condensation from the inside of the chimney. An independent spirit level facilitates correct installation.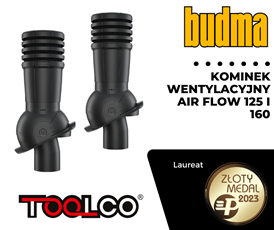 ENGO Controls product line – E901, E901RF, E901WIFI temperature controllers
ENGO CONTROLS S.C. / "QL CONTROLS Sp. z o.o. Sp. k. The presented line offers practical devices to control any type of heating. It is a comprehensive offer with three control variants: wired, wireless, online (ENGO Smart/TUYA Smart mobile application) – depending on the needs. The controllers allow you to control the temperature in the rooms, which translates into optimally heated interiors, lower bills during the heating season, and a healthy home microclimate. QL Controls provides everyday comfort, real savings and well-being.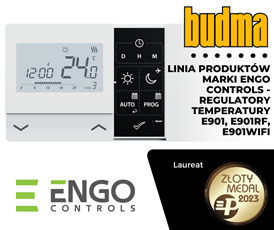 CASE CX15 EV Mini excavator
CASE CONSTRUCTION CNH INDUSTRIAL POLSKA Sp. z o.o. EWPA Sp. z o.o. The first electric model in the D series – CX15EV. A 1.3 ton excavator with a 16kW motor powered by a battery can be fully charged in less than two hours! As befits modern models of D-series CX15EV machines, it guarantees pleasant and safe work for the operator. The cabin features automatic air conditioning, personalised electro-hydraulic control, convenient settings for additional hydraulic circuits, optional seat suspension, reversing camera and finally DAB radio, Bluetooth connection and an additional AUX-IN socket.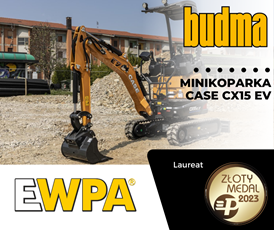 MobiGuard Mobile monitoring tower
Impel Technical Security Sp. z o.o. / IMPEL S.A. The MobiGuard mobile monitoring tower is Impel's proprietary solution – autonomous and reliable. It is ideal for ensuring the safety of extensive and hard-to-reach places, e.g. construction sites. Professional cameras and sensors react to every event and guarantee activity in all conditions. Photovoltaic panels and fuel cells provide independent power supplu. MobiGuard was used in nearly 1000 investments in 2022. Its effectiveness is confirmed by the reduction of customer losses by approx. 90% and savings resulting from the lack of costs of security stations reaching 75%.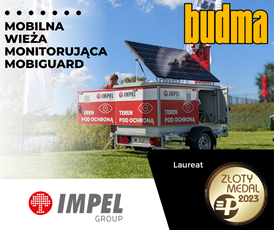 DEZ flat roof window with factory-installed AMZ/Z awning blind
FAKRO Sp. z o.o. The new line of DEZ windows is an innovative proposal for lighting a room under a flat roof and an innovative look at design. The solutions used in DEZ windows are technically advanced, which is why they have one of the best thermal insulation parameters on the market. The factory-installed electrically controlled AMZ/Z-Wave awning blind guarantees excellent protection against overheating of the room, while allowing for visual contact with the surroundings.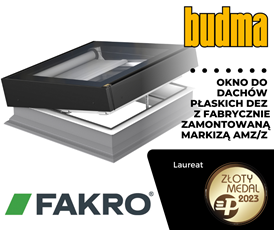 WIN SLIMATIC Slatted pergola
SUN WINNER GROUP Sylwester Piechowski WIN CLIMATIC – revolutionary, fully automatic terrace roofing. Full control. The roof consists of aluminum slats controlled in the range of 0° to 135°, ensuring full control over sunlight and protection against precipitation. Waterproof. Integrated, all-round water drainage system in the slats and gutter. Unique, leak-proof pergola design. Resilience. The highest quality extruded aluminium, additional reinforcements. Unrivalled snow resistance – up to 5,000 kg of load with the maximum size of the pergola makes WIN CLIMATIC a year-round product. Functionality. Many accessories are available: intelligent control, voice control, LED lighting – many options and configurations, weather sensors, heat radiators, Bluetooth audio system and many others. Protection and privacy. The sides of the structure can be covered with modern WIN SCREEN roller shutters, stylish and durable WIN GLASS glass or wood-like WIN PANELS aluminium panels. Increased privacy and protection against insects and weather conditions. Aesthetics. No visible screw connections. Rich colours, including wood-like patterns. An impressive finish that will meet even the most demanding expectations.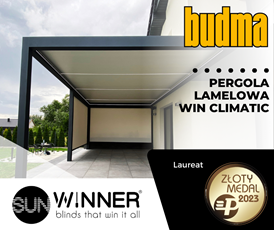 TCL Tri-thermal split heat pump
TCL CAC POLAND / PV Group Poland TCL Tri-Thermal series heat pumps are a modern, highly efficient and economical solution for home and business. It is currently the only heat pump that has the ability to connect more than 8 heating zones and communicates via GSM and WiFi. In addition, it has an intuitive application that allows you to monitor the operation of the device in real time, a powder-coated stainless steel housing and a double rotary compressor guaranteeing long-term operation with minimal maintenance costs.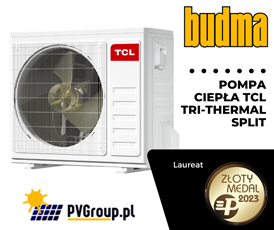 PRO900 DIGITAL 60CM ELECTRONIC SPIRIT LEVEL IP65 WITH COVER
PRO Sp. z o.o. PRO 900 Digital is the first digital level in history proudly bearing the MADE IN POLAND mark. Designed together with contractors to anticipate their needs. Dual displays and IP65 dust resistance, high accuracy over a wide temperature range. Trust PRO, we've been setting levels for over 3 decades.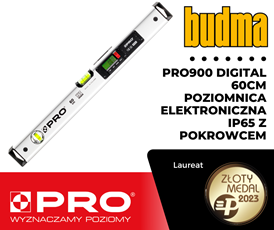 SLIDE EVO Sliding terrace door
GDAŃSKA FABRYKA OKIEN Sp. z o.o. Modern SLIDE patio doors with excellent tightness parametres. Made using modern Vperfect welding technology in a wide range of colours. Providing both a unique design and the comfort of maintaining appropriate thermal and sound insulation. Tightness, aesthetic appearance, maximum comfort, low price – an ideal product for difficult times when the investor has to make tough decisions. Don't give up on your dreams and comfort – this product fits perfectly with this motto!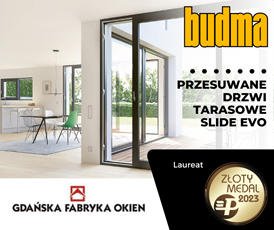 BAUTER OUTSIDE SYSTEM – THIN-LAYER THERMAL INSULATION SYSTEM
BAUTER Sp. z o.o. BAUTER is a Polish product that has all the necessary tests and certificates allowing it to be marketed in Poland and in the countries of the European Union. This also allows the use of the BAUTER system in the most important sectors: construction, industry, refrigeration, heating, agriculture and transport. Benefits of using the BAUTER system: 2 × warmer house, up to 50% savings on heating, up to 70% savings on energy used to power ventilation and air conditioning.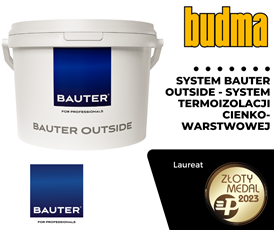 ISO-TOP WINFRAMER 'TYPE 3' INSTALLATION SYSTEM IN THE OUTER LAYER OF THERMAL INSULATION
ISO-Chemie GmbH ISO-TOP WINFRAMER 'TYPE 3' consists of load-bearing, heat-insulating system profiles made of highly dense THERMAPOR. A very good group of thermal conductivity of the fittings ensures perfect integration with the ETICS system and optimal values of the coefficient Ψ (Psi). As a result, thermal bridges are optimised and a high insulating effect is achieved in the area of window glyphs. This prevents the risk of mould formation in the connection area around the window opening.
ENERGETO NEO Window system
ALUPLAST Sp. z o.o. Strong angles and minimalist architecture, and at the same time the visual lightness of the structure. A simple, symmetrical, cubist shape is the hallmark of the ENERGETO NEO system. The system meets the highest requirements in terms of energy efficiency and is in line with the latest design trends. We set ourselves a number of requirements: to combine the most innovative aluplast technologies with a unique design. Every detail and applied technologies are subordinated to this vision. Two stylistic lines are available within the system: a minimalist, classic, non-flush version and a designer, flush-mounted version referring to the optics of aluminium systems. The unusual lightness and elegance of windows made in the energeto NEO systems is provided by narrow, expressive fillisters, which are almost half as narrow as in other aluplast systems. In the development process, we took into account many ideas and wishes of our customers: a modern and timeless look, a simple and compatible solution and the desire to build architectural and facility windows on one platform. Thanks to the technologies used and a wide range of profile variants, energeto neo will prove itself both in the case of replacing old windows and in the design of a modern house.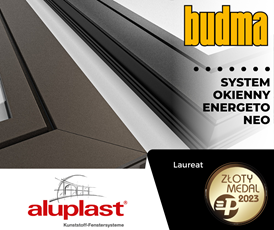 RUREGOLD PBO-FRCM system for strengthening masonry and concrete structures
RUREGOLD / VISBUD-PROJEKT Sp. z o.o. RUREGOLD PBO-FRCM is a system for strengthening masonry and concrete structures. The system is based on PBO fibre meshes embedded in a mineral matrix. They are characterised by high strength with minimal weight. Thanks to such a structure of the system, its technical parameters, as well as easy application, it is perfect for the implementation of reinforcements. Unlike FRP systems with resins in the matrix, it does not require special protection against fire. At the same time, it is ecological.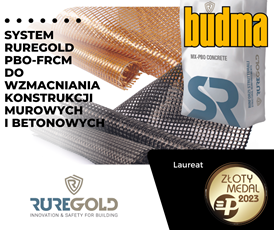 MAG-160 Roof fan
UNIWERSAL Sp. z o.o. MAG-160 fan – a three-speed roof fan for operation on collective ducts in residential construction. Small dimensions, modern design, colours that match the device to the existing roof sheathing, engine with the possibility of programming working revolutions.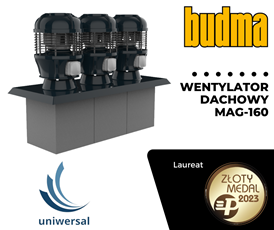 RawlDriver R-PDD18-P100 Drill Driver
Rawlplug SA The R-PDD18-P100 cordless drill/driver is a power tool for professionals: • Very high usable torque (100Nm) • Screwdriving/removing, drilling and hammer drilling functions • Electronic torque clutch • Additional handle for increased work safety • 3 equipment versions, depending on the User's requirements • 3-year warranty – also for the batteries and the charger from the system • Warranty and post-warranty repairs in the factory service within 24 hours.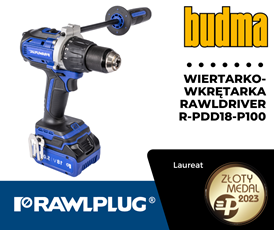 DECENTRALISED HOME VENTILATION SYSTEMLG 100
J. PICHLER Gesellschaft m.b.H. KACPERSKY Magdalena Kacperska The first ventilation unit on the Polish market with LG 100 recuperation by PICHLER for use in flats, small houses, offices, etc. It extracts air from living spaces and replaces it with fresh, filtered outdoor air. A high-quality enthalpy exchanger ensures efficient heat and moisture recovery, ensuring balanced air humidity and a pleasant indoor climate, and the sensor recording the concentration of VOC and CO2 in the indoor air that automatically adjusts the level of ventilation.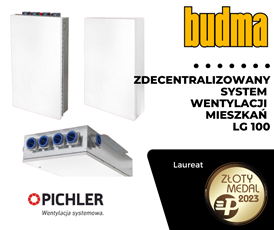 IT IS WORTH TO READ ALSO THE PRODUCTS AWARDED WITH THE GOLD MEDAL OF THE WINDOOR-TECH 2023 FAIR >> HERE
Congratulations to all winners! We encourage you to vote, visit the BUDMA and WinDoor-Tech 2023 exhibitions and the stands of gold medalists.
THE JURY HAS CHOSEN! TIME FOR CONSUMERS!
Choose the best product at the BUDMA 2023 fair in the GOLD MEDAL CONSUMER CHOICE competition. Voting ends on January 26.
In case of any questions, please contact: