Construction Digital Meeting
The platform of DIRECT contacts with clients from all over the world. Take advantage of the global reach and establish new business contacts! November 22-25, 2021!


Sell ​​wherever you want!
The platform enables contact and meeting with clients from all over the world. Borders are not an obstacle, as they do not exist in fact! We invite potential customers from most countries of the world - especially those who have or will soon become the most important on the export map of our partners.
Promote new products internationally!

Grupa MTP, the organizer of the most recognizable Polish construction fair BUDMA in Europe, has been developing a program supporting international business (Hosted Buyers Program) for many years. The essence of its activity is to identify distribution companies on the most promising markets and bringing their representatives to meet manufacturers present at the fair in Poznań. The extensive international activities of the MTP Group also allowed for the building of impressive databases of direct contacts with the most important merchant groups in the world.
Find new distribution channels!
We will invite over 40,000 buyers representing purchasing chains and distribution centres in the construction industry from five continents to meet and exchange contacts. Many distributors have already declared their willingness to participate in the online meetings in November (November 22-25, 2021). The buyers will also include the current participants of the Hosted Buyers BUDMA Program, who we hosted in Poznań in the last few years.
Plan, make an appointment, meet up!
PLAN
The platform allows you to arrange a virtual meeting and easily add it to your synchronized Outlook or Google calendar. Flexible meeting times will allow you to contact contractors in different time zones.
MAKE AN APPOINTMENT
The system enables an active arrangement of meetings for participants and exhibitors. You can contact selected contractors simply and quickly using the chat or video conversation option. You can also invite additional team members to the meeting at any time.
MEET UP!
A significant number of distributors interested in participating in meetings on the digital platform are also planning a visit to the BUDMA fair (February 1-4, 2022). There will be an opportunity to meet face to face soon!
INTERNET MEETING PLATFORM

friendly interface
no need to install additional software
automatic recommendations of partners for meetings interested in your offer
the ability to search for customers according to business interests
feedback on people visiting the company's profile
unlimited number of 1:1 meetings with video function and chat
individual calendar synchronized with Outlook and Google
automatic reminders for upcoming appointments
access to events up to 30 days after the end of the event
PRESENTATION OF YOUR COMPANY ON THE PLATFORM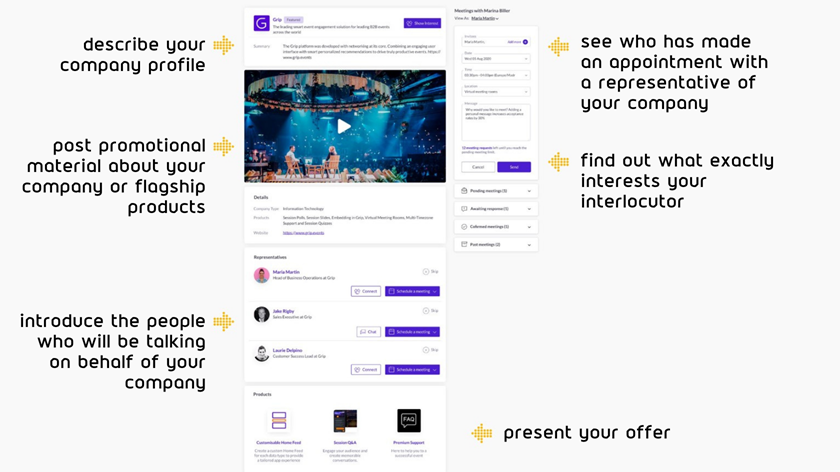 VIEWING PEOPLE VISITING COMPANY PROFILE
You have access to the list of people who visited the profile of your company or its representatives. You can view their profiles and propose a meeting.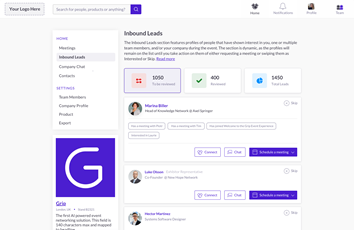 SCHEDULE FOR ACCESS TO THE PLATFORM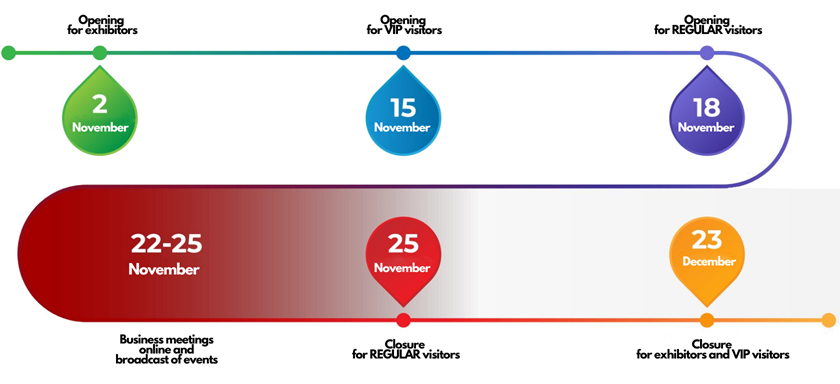 INTERNET MEETINGS PLATFORM - OFFER
Exhibitor's package / Description
BASIC
PREMIUM
EXCLUSIVE
PRICE
2 950 PLN
4 950 PLN
12 950 PLN 
PACKAGE PRICE FOR BUDMA EXHIBITOR
1 475 PLN
2 475 PLN
6 475 PLN 
COMPANY BUSINESS PROFILE - COMPANY BUSINESS CARD
☑
☑
☑
COMPANY LOGO
☑
☑
☑
PRODUCTS SHOWN, including links to videos
5
10
25
COMPANY REPRESENTATIVE - NUMBER OF BUSINESS CARDS
(and meeting rooms)
2
4
8
PACKAGE OF INVITATIONS TO MEETINGS
20
50
80
VIEWING PEOPLE VISITING COMPANY PROFILE
500
1500
unlimited
PACK OF ACTIVE INVITATIONS FOR VISITORS
(active access codes to the platform sent by the exhibitor)
20
50
200
PROMOTION ON THE EVENT PLATFORM
 
 
 
TOP SPOT ON THE EXHIBITORS LIST
x
x
☑
HIGHLIGHT ON THE EXHIBITORS LIST
x
☑
x
30" VIDEO SPOT
x
x
☑
SIDE BANNER ON THE MAIN PAGE (rotating)
x
x
☑
PROMOTION IN THE MTP GROUP CHANNELS
 
 
 
INFORMATION ON THE BUDMA FAIR WEBSITE
☑
☑
☑
FB POST ON THE BUDMA PROFILE
x
1
2
LOGO IN MAILING TO VISITORS
x
1x
1x
PROMOTIONAL CAMPAIGN
direct mailing
information about the event


dedicated invitations


for representatives of the key sectors of the construction industry





cooperation

with the most important industry media




digital campaigns


Google Ads, Facebook Ads, LinkedIn Ads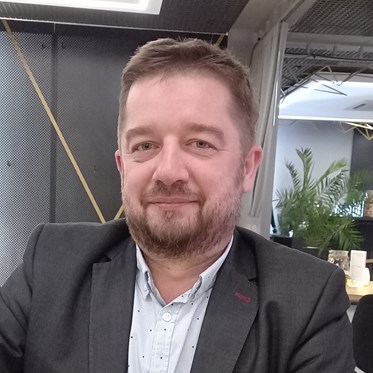 e-mail.
robert.mecina
e-mail.
klaudia.jozwinska