Find the business you need!
If you represent a purchasing group, a warehouse network or you sell construction materials, use the Hosted Buyers Program option. Take part in the most important construction and architecture fairs in Central and Eastern Europe, BUDMA. Meet over 1000 manufacturers and distributors of building materials from almost all over the world. With the Hosted Buyers Programme, it is easier to set up a new business opportunity!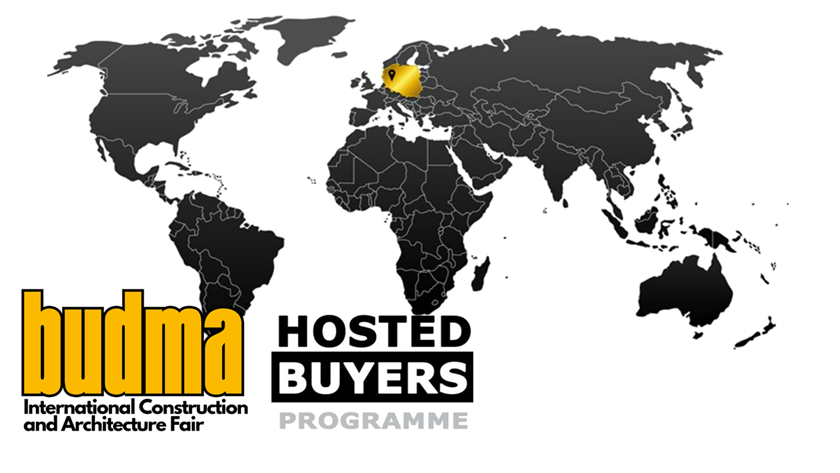 Hosted Buyers Programme makes it easy for the top buyers to attend the biggest in Central-Eastern Europe Construction and Architecture Fair – BUDMA, which is held in Poznan (Poland) from 23.11. to 26.11.2021.
BUDMA is the most important branch event in Central-Eastern Europe, where producers and distributors from dozens of countries will present products for the construction industry. 
The fair is dedicated to the four major groups of visitors: architects, traders, contractors and developers. Each year, nearly 1.000 exhibitors meet here with nearly 50.000 professionals.
WHAT ARE THE BENEFITS OF HOSTED BUYERS PROGRAMME?
A personal itinerary of appointments with your choice of hundreds of exhibiting companies. No time wasted meeting with exhibitors that don't fit your business needs!
Admittance to exclusive BUDMA business evening.
Transfers within Poznan from the airport – hotel – exhibition
Airport 'meet and assist' service on arrival
Accommodation at one of Poznan's top hotels
Dedicated BUDMA support team before and during the exhibition
Hosted Buyer ZONE access, with complimentary wi-fi and other services
Complimentary travel*
*depending on your location – selected routes only
HOW DOES IT WORK?
STEP 1 – REGISTRATION ONLINE
To be considered for the Hosted Buyers Programme, you need to submit your registration. If you're eligible to take part, you'll receive an official confirmation email letting you know that you've been accepted.
STEP 2 – APPLICATION PROCESS
Once you've been accepted, you will be asked to read the terms and conditions of the programme and fill in the application form.
STEP 3 – ORGANIZATION OF YOUR STAY IN POZNAN
After receiving properly filled in documents, we will be able to organize your trip and accommodation.
STEP 4 – EXHIBITORS' selection process
You will be asked to select at least 12 companies (6 per day) to meet with during the event.
STEP 5 - THE FAIR
Visit the fair, according to schedule.
EXPRESSION OF INTEREST
Complete the Registration Form below to register your interest in attending BUDMA 2020 as a Hosted Buyer
HOSTED BUYER'S COMMITMENTS
As a Hosted Buyer, you commit to:
attend at least six meetings per day (a minimum of 12 meetings in total) with the exhibitors included on the appointment list provided by organizer
to take part in BUDMA 2021 exhibition on each day of your stay in Poznan
All Hosted Buyers are obliged to sign the Application Form which includes buyer's rights and obligations. To complete your application you will need passport information and credit card details. Credit card information is required for possible cancellation and no show fees. No other charges will be made against your credit without prior notification. Credit card details are encrypted and stored securely and safely. Accepted credit cards include Visa, Mastercard and American Express.
IMPORTANT:
As a Hosted Buyer we ask you to be able to commit to the full Hosted Buyer programme due to the exclusivity of the event. Please kindly consider this time requirement before submitting your application.
MORE REASONS TO BE A PART OF BUDMA HOSTED BUYER PROGRAMME!
Business deals - Everyone you need to meet is at BUDMA
Appointment system - make appointments before the exhibition
Premiers and news - discover the latest trends
Efficient use of your time – meet your potential business partners in one place and time, save your time and money
YOU CAN BE SEMI OR FULLY HOSTED TO SUIT YOUR BUSINESS NEEDS.
For buyers who would like to benefit from a "lite" option of the programme, we offer a SEMI-HOSTED BUYERS attendance option providing the onsite benefits and pre-scheduled meetings with exhibitors.
SEMI-HOSTED BUYERS BENEFITS INCLUDE:
free entry to the fair
prescheduled appointments with exhibitors of your choice
entry to the Hosted Buyers Zone
free Wi-Fi
transfers hotel-exhibition-hotel (only from partner hotels in selected days)
on-site support of the Hosted Buyers Team